Investigaciones recientes:
Investigación de la cacería en el área protegida Punta de Manabique en el Atlántico. Investigador: Julio Morales, Institución: ONCA, FUNDARY

Investigación sobre el virus West Nile en poblaciones de aves en Punta de Manabique. Institución: FUNDARY


Publicaciones:
La lista incluye publicaciones con enfoque en las costas. Ver también la lista completa de publicaciones ornitológicas para trabajos con un enfoque más amplio.

Eisermann, K. (2003) Vom Aussterben bedroht: Die Große Gelbkopfamazone in Guatemala. Gefiederte Welt 127: 206-207.

Eisermann, K. (2003) Status and conservation of the Yellow-headed Parrot Amazona oratrix "guatemalensis" on the Atlantic coast of Guatemala. Bird Conservation International 13: 359-364.

Eisermann, K. (2003) First records of the White-crowned Pigeon (Columba leucocephala), the Rufous-necked Wood-Rail (Aramides axillaris), and the Snowy Cotinga (Carpodectes nitidus) for Guatemala. Ornitología Neotropical 14 : 127-128.

Eisermann, K. (2004) Status of Great Curassow (Crax rubra) in Punta de Manabique, Guatemala: habitat, population size and human impact. Bulletin of the IUCN / BIRDLIFE / WPA Cracid Specialist Group 18: 4-14.

Garrido, O. H., A. T. Peterson & O. Komar (1999) Geographic variation and taxonomy of the Cave Swallow (Petrochelidon fulva) complex, with the description of a new subspecies from Puerto Rico. Bull. British Ornithologists, Club 119: 80-91.

Houston, C. S. (2000) Migration of Common Terns banded in western Canada. North American Bird Bander 25: 4-7.

Jehl, J. R., Jr. (1974) The near-shore avifauna of the Middle American west coast. Auk 91: 681-699.

Komar, O. (2003) Notes on autumn migration in coastal El Salvador. Ornitologia Neotropical 14: 39-46.

Lousada, S. A. & S. N. G. Howell (1996) Distribution, variation, and conservation of Yellow-headed Parrots in northern Central America. Cotinga 5: 46-53 .

Salvin, O. (1865) The sea-birds and waders of the Pacific coast of Guatemala. Ibis 7: 187-199.

Saunders, G. B. (1950) The game birds and shorebirds of Guatemala. A fish and wildlife survey of Guatemala. US Department of Interior Fish and Wildlife Service Spec. Sci. Report 5: 3-98

Sigüenza, R. R. (1995) Evaluación de fluctuaciones poblacionales de aves en Manchon-Guamuchal, San Marcos-Retalhuleu, Guatemala. Tesis de Licenciatura, Universidad de San Carlos de Guatemala, Guatemala.

Tashian, R. E. (1953) The birds of southeastern Guatemala. Condor 55: 198-210.

Willis, E. O. (1961) Prairie Warbler off the Pacific coast of Guatemala. Condor 63: 419.



Literatura gris:
CECON-CDC (1992) Estudio Técnico de Punta de Manabique. Universidad de San Carlos de Guatemala.

Eisermann, K. (2001) Caracterización de la avifauna del Área de Protección Especial Punta de Manabique, Izabal, Guatemala. Fundación Mario Dary, Guatemala.

Pérez, S. (1999) Evaluación ecológica rápida de Punta de Manabique, Izabal, Guatemala grupo: aves.

Robbins S., C. & B. A. Dowell. (1992) Las aves anilladas y observadas en Guatemala, 1 feb. - 8 mar. 1992. Patuxent wildlife Research Center. U. S. Fish & Wildlife Service.

Tenez, D. (2001) Determinación de la riqueza de especies de aves presentes durante la estación lluviosa de 1999 en el Refugio de Vida Silvestre Punta de Manabique, Izabal. Informe final del Ejercicio Profesional Supervisado, Universidad de San Carlos de Guatemala, 32-58.



Publicaciones por Internet:
www.proeval-raxmu.org/monitoreo/manabiqueresumen.htm
Resumen de un estudio de la avifauna de Punta de Manabique, por Knut Eisermann.
Instituciones involucradas:
FUNDARY

ONCA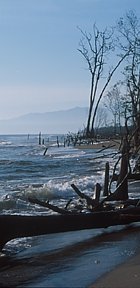 Costa Atlántica
Punta de Manabique
Foto © Knut Eisermann