Investigaciones recientes:
Monitoreo de aves en el monte espinoso. Institución: Defensores de la Naturaleza.


Publicaciones:
La lista incluye publicaciones con enfoque en el Monte Espinoso. Ver también la lista completa de publicaciones ornitológicas para trabajos con un enfoque más amplio.

Dickerman, R. W. (1981) A taxonomic review of the Spotted-breasted Oriole Nemouria 26 :1-10.

Griscom, L. (1935) The birds of Sierra de las Minas, eastern Guatemala. Ibis 77: 807-817.

Land, H. C. (1962) A collection of birds from arid interior of eastern Guatemala. Auk 79: 1-11.

Mayén, M. E. (2002) Fundamentos, selección y caracterización de áreas de monte espinoso como propuesta para áreas protegidas en el nororiente de Guatemala. Tesis Universidad Rafael Landívar, Guatemala.

Skutch, A. F. (1953) The White-throated Magpie-Jay. Wilson Bull. 65: 68-74.

Tashian, R. E. (1953) The birds of southeastern Guatemala. Condor 55: 198-210.

Wendelken, P. W. & R. Martin (1987) Avian consumption of Guiacum sanctum fruit in the arid interior of Guatemala. Biotropica 19: 116-121.

Wendelken, P. W. & R. F.Martin (1988) Avian consumption of the fruit of the cacti Stenocereus eichlamii and Pilosocereus maxonii in Guatemala. American Midland Naturalist 119: 235-243.



Literatura gris:
Pérez, S., I. de la Roca & G. Martínez (2003): Plan de Monitoreo Biológico Sistema Motagua-Polochic. Fundación Defensores de la Naturaleza, The Nature Conservancy/USAID, Guatemala.

Valle, L., R. Soto, P. Negreros M del P., S. Pérez & C. Castañeda (1999): Áreas prioritarias para la conservación en el sector norte del matorral espinoso del Valle del río Motagua, Guatemala. Fundación Defensores de la Naturaleza, Programa Ambiental Regional para Centroamérica/Central American Protected Area System, Guatemala.

Instituciones involucradas:
Defensores de la Naturaleza
Western Foundation of Vertebrate Zoology
Museo de Historia Natural de la Universidad San Carlos, Guatemala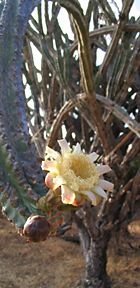 Monte Espinoso de Zacapa
Foto © Knut Eisermann