El emblema de la SOCIEDAD GUATEMALTECA DE ORNITOLOGÍA simboliza al Pato Poc (Podilymbus gigas). La especie fue endémica en el lago de Atitlán, donde fue investigada su biología y historia natural en los años 1960 (LaBastille 1969, 1974). Hoy el Pato Poc es considerado extinto (Wege & Long 1995, O'Donnel & Fjeldsa 1997, Hilton-Taylor 2000, BirdLife International 2004).

El caso del Pato Poc demuestra la necesidad de formar, reforzar, y propagar los esfuerzos para la conservación de la avifauna y su hábitat.

Se desconoce cuándo exactamente desapareció el Pato Poc, pero desde 1986 ya se registró solamente Podilymbus podiceps, una especie similar, pero más pequeña (Hunter 1988). Se asumen varias razones para la extirpación del Pato Poc: El aprovechamiento no sostenible del tul (Scirpus californicus) en las orillas del lago destruyó el hábitat para la reproducción del Pato Poc. La introducción del pez de rapiña Micropterus salmoides en los años 1960 causó una disminución de la fuente de alimentación, que eran peces pequeños y cangrejos. El terremoto de 1976 causó una reducción de varios metros del nivel de agua, lo cual secó los tulares (LaBastille 1974, 1984).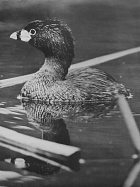 Podilymbus gigas
Foto: David G. Allen
© The Wildlife Society.


Referencias

BirdLife International (2004): Threatened birds of the world 2004. CD-Rom. BirdLife International, Cambridge, UK

LaBastille, A. (1969): The life history, ecology and management of the Giant Pied-billed Grebe (Podilymbus gigas), Lake Atitlán, Guatemala. Ph.D. thesis, Cornell Univ., Ithaca, N.Y.

LaBastille, A. (1974): Ecology and management of the Atitlan Grebe, Lake Atitlan, Guatemala. Wildlife Monographs No. 37, Wildlife Society.

LaBastille, A. (1984): Drastic decline in Guatemala's Giant Pied-billed Grebe population. Envir. Conserv. 11: 346-348.

Hilton-Taylor, C. (2000): 2000 IUCN Red List of Threatened Species. IUCN, Gland, Switzerland and Cambridge, UK.

Hunter, L. A. (1988): Status of the endemic Atitlan Grebe of Guatemala: Is it extinct? Condor 90: 906-912.

O'Donnel, C. & J. Fjeldså (1997): Grebes: Status Survey and Conservation Action Plan. IUCN/SSC Grebe Specialist Group, IUCN, Gland, Switzerland and Cambridge, UK.

Wege, D. C. & A. J. Long (1995): Key areas for threatened birds in the Neotropics. Birdlife Conservation Series 5, Birdlife International, Cambridge.